The US and the UK Master's Part / Chapter-wise Dissertation Writing Service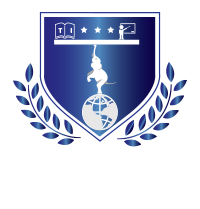 Then You've Certainly Reached the Right place
Importance of competitive advantage in business
Introduction
Barney (2002: 9) defined that "a firm experiences competitive advantages when its actions in an industry or market create economic value and when few competing firms are engaging in similar actions." Barney relates competitive advantage to performance, stating that "a firm obtains above-normal performance when it generates greater-than-expected value from the resources it employs. There are different perceptions regarding the competitive benefits. As per one perception, in the product markets, the favorable terms of trade determine the value (i.e.) the sales where profit is more than the costs. Another perception is that "super-normal" returns describe the advantage. The third perception relates advantage with stock market performance. The financial economics states that superior stock market performance originates when there is a sudden increase in expectations (Rumelt et al., 2003).
Regardless of the different perspectives, in today's scenario of globalization, establishing a competitive edge is highly essential for businesses to sustain. In this assignment we intend to report a comprehensive analysis of importance of competitive advantage, achieving and sustaining competitive advantage through efficient supply chain management. Supply chain management (SCM) is chosen to be analysed for competitive advantage since it is considered as an advanced concept that helps in obtaining both operational and strategic benefits (AlMudimigh et al., 2004).
Support of Supply Chain Management (SCM) for Competitive Advantage
Antibiotic resistance in pathogenic bacteria is emerging as a global issue of serious concern in bio-medical research as well as food & health organizations. The ability of bacterial DNA to mutate in response to antibiotics, oxidative stress and environmental conditions results in decreased bacterial susceptibility towards commonly administered antibacterial agents. A wide range of mechanisms are suggested to contribute to the emergence of antibiotic resistant population through previously unknown metabolic interactions and gene expression patterns (Davies and Davies, 2010; Gniadkowski, 2008).
World's leading companies identified a new, effective source of competitive advantage known as supply-chain management. It includes a series of interconnected activities facilitating the product's entry into the market and thereby improving the customer satisfaction. The Supply Chain Management Program comprises various topics related to purchasing, manufacturing operations, physical distribution and transportation. The continuous process of coordinating and integrating all the above-mentioned activities leads to a successful supply chain management. It incorporates and connects each of the partners present in the chain. In the present day scenario, it is imperative that fast delivery of products to the customers is a key factor to sustain the competitive market. In order to be successful, organizations should address the key SCM issues such as modal analysis, supply chain management, route planning, load planning and distribution network design. It is necessary that each organization should meet corporate challenges that have an effect on Supply Chain Management like outsourcing and reengineering globalization (Zigiaris, 2010).
Importance of SCM in Competitive Advantage:
A well-executed supply chain management helps in reducing the production costs, and delivers the product at low cost in the competitive market. Because of the supply chain management strategy, Walmart has become a leading enterprise in the competitive international market. Wal-Mart's supply chain management strategy has the following benefits: competitive product costs, diverse in-store products for selection, low inventory carrying costs and high competitive price to the customer. With the technology advancements, Walmart persistently concentrates on new technologies and innovations to develop advanced supply chain processes and systems and thereby improving its performance (University of SanFrancisco, 2013). An efficient supply chain which offers secure, rapid and free flow of information will able to forecast, understand, and respond to the consumer needs and market changes. In the personal computer market, the sudden growth of Dell Computer is due to its excellent customer service in terms of price or high quality of the products. Dell has utilized the internet for consistent and fast delivery of customer-configured computers. Dell also employed the Web-based technology to facilitate bi-direction information sharing with the partners in relation to defect rates, product development, engineering changes and future requirements (Sturim, 1999).
The U.S. Census Bureau's Annual Survey of Manufactures stated that in 2008, the total price of raw materials procured by US manufactures was more than $3.2 trillion, whereas in 2000 it costs only $2.2 trillion. Similarly, because of the increasing fuel prices, the total cost of fuel purchased by the US manufactures was around $63 billion which is 10% more when compared to the previous year. Hence, it is clear that a well-organized SCM strategy will reduce the inventory, purchasing and transportation expenses. In 2009, Michigan State University conducted Global Survey of Supply Chain Progress which stated that around two thirds of firms possess "official" SCM group which integrated the activities of sourcing, logistics, and performance evaluation. It was found that the SCM operations reduced the expenses or increased the profit as reported by the 70% of the respondents.
Variables
Mean
S.D.
1
2
3
4
5
Reliability
SCM practice
Strategic supplier partnership
3.46
0.63
–
0.82
Customer relationship
3.22
0.72
0.57**
-
0.82
Level of information sharing
3.01
0.83
0.44**
0.31**
-
0.85
Quality of information sharing
4.28
0.64
0.16*
0.38**
0.09
-
0.79
Postponement
3.93
0.59
0.12
0.22**
0.51**
0.26**
–
0.74
Competitive advantage
Price/cost
3.76
0.75
–
0.86
Quality
4.12
0.69
0.19*
–
0.91
Delivery dependability
4.31
0.78
0.26**
0.47**
-
0.73
Product innovation
3.97
0.61
0.23**
0.08
0.33**
–
0.78
Time to market
3.36
0.81
0.36**
0.18*
0.26**
0.30**
-
0.81
Table 3: Means, Standard Deviations, Correlations and Reliability of SCM Practice and Competitive Advantage
* Correlation is significant at the 0.05 level (two-tailed)
** Correlation is significant at the 0.01 level (two-tailed)
Moreover, under the guidance of companies having experience in SCM operations some firms increase their capacities and thereby obtaining the benefits at less time.
The results of an empirical study present a layout which comprises five important aspects of SCM practices and explain the relationship among them. It also explains the benefits obtained from the five key dimensions (Bratić, 2011).
These examples clearly suggest why achieving competitive edge is important for businesses. Since the end participant in a supply chain is the customer and customer focus/satisfaction is one of the key aspects that drive businesses, supply chain management is important in acquiring a sustainable position in the competitive business platform.
Achieving competitive advantage
Today technology plays a key role in supply chain management and many top companies and businesses have exploited this technology growth in gaining a competitive edge. The main aim of SCM is to offer efficient and relatively less cost operations throughout the system. It is necessary to reduce the overall costs including the transportation and delivery of raw materials to inventories, other related operations, and reducing the processed goods. However, simply decreasing the transportation expenses or the number of inventories does not hold good. It is necessary to implement a well-organized system for a successful SCM (Simchi-Levi & Kaminsky, 2007).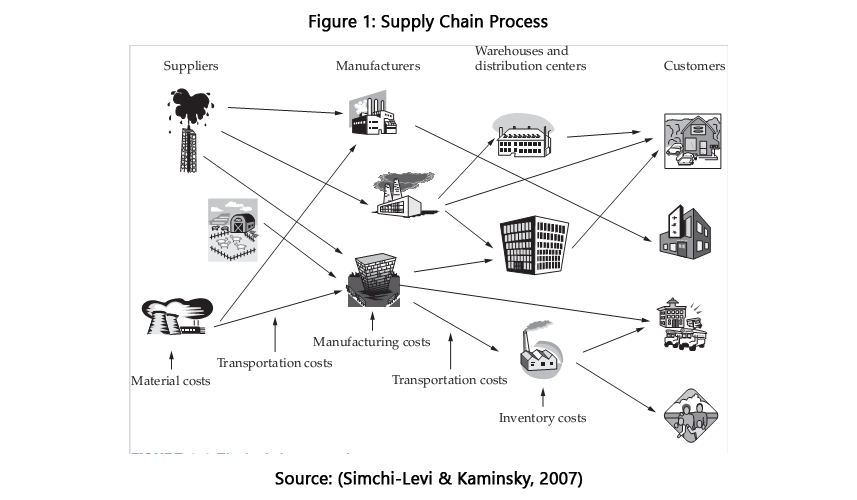 Customer relationship management (CRM):
An internal competition was created by a Michigan area accounting firm, Beene Garter, to 'sell' CRM to its officials. "Teams were assigned 'homework' on client records and software tracked who entered updates," says Beene Garter's Den Ouden. She adds "The contest mirrored components of Olympics and was called 'Go for the Gold' to tie into the software named Goldmine. At the closing ceremony, the best performing teams received 'gold' medals and gift cards ''. It was a notable success. There was a transition in the users' behavior from uneasiness in registering the data to comfort and uninterrupted application of this software (Wisner, 2012).
Increasing Supply chain responsiveness
In order to maximize the responsiveness, it is necessary for the supply chain to recognize their end customers and their demands. It has to continuously monitor the competition in the market and update their products or services accordingly to stay competitive. And lastly, it has to analyze the effect of these activities on every participants of the supply chain. In addition to this, further improvisation on the responsiveness can be accomplished by the efficient information and communication systems and delivery of products or services systems at less time since supply chain is responsible for the delivery of products or information. The information acquired by observing the competition in the market helps to reposition the capabilities of supply chain participants with the outputs to sustain the competition in the market.
In the current supply chain applications, the mobile technologies have a predominant role because the real-time data transfers help to improve the responsiveness significantly. Reik Reed, Wisconsin-based Robert W. Baird & Co. industry analyst states, "Having real-time mobile capability from any point in these facilities allows companies to track both people and assets. The manufacturing and warehousing environments are dynamic and change constantly. With optimization through real-time mobile communications, the instantaneous changes can be delivered to drivers. It allows greater visibility into the manufacturing process (Wisner, 2012)."
Strategies to be considered in SCM
Following are some strategies that should be taken into consideration while developing the SCM.
Supply Chain Integration and Strategic Partnering:
Due to the uniqueness and varying requirements of different facilities and supply chain partners, it is difficult to plan and execute a globally optimal supply chain. Moreover, the success stories of Dell, Procter & Gamble and Wal-Mart illustrate the possibility of having a globally optimal supply chain and its influence on company's productivity as well as market share. However, all these three companies are the leading companies in the market and that their technologies and strategies cannot be followed by most of the companies. Because of the increasing competition in the current market, and the pressure from customers and their supply chain partners, most of the companies are compelled to incorporate the supply chain and involve in strategic partnering.
Outsourcing and Offshoring Strategies:
Redesigning the supply chain strategy includes integrating the various operations included in the supply chain, and deciding the sources for manufacturing and outsourcing.
The following are the main issues to be considered, while redesigning the supply chain strategy:
Identifying the core manufacturing competencies and are manufactured internally.
Identifying the products or activities for outsourcing
Identifying the risks associated with the outsourcing and the ways to minimize the risks
Ensuring that the outsourced products are delivered within the specified time
Identifying when to have dual sources for the same material
Identification of the effect of offshoring facilities to the Far East when outsourcing is not preferred
Identifying the risks and effects of offshoring over the inventories and capital price
Information Technology and Decision-Support Systems:
Information technology plays an important role in the successful SCM. The gaining importance of SCM implementation is due to (1) increased data availability and (2) advanced analysis of these data reduces the expenses. One of the main issues faced by the SCM is selecting the data for transferring. It is very difficult to select the important data and to safely dispose the unwanted data. It is necessary to determine the time limit for analyzing and transferring the data, influence of internet and e-commerce and the infrastructure internally and also between the supply chain partners. It is important to find whether information technology and decision-support systems can be used as the key instrument to sustain competitive advantage in the market. If it is the case, then it is also necessary to determine the reason which prevents others to utilize these two technologies.
Conclusion
Supply Chain Management thus plays an important role in gaining competitive advantage for the firm. A discussed in the assignment, SCP entails customer satisfaction which is an important factor for acquiring competitive edge. Efficient supply chain management ensures low cost thereby increasing profit and productivity. Adoption of new technology and software to monitor and manage supply chain will enhance the entire business process. Given this fact it is imperative to upgrade company's supply chain process when and where it adds value to the organization's competition.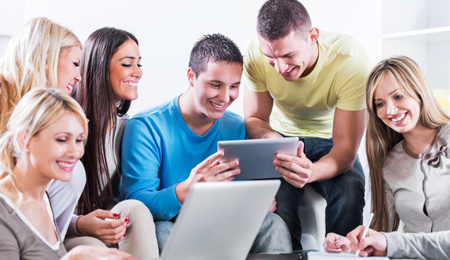 Researchers to mentor-We write your Assignments & Dissertation
With our team of researchers & Statisticians - Tutors India guarantees your grade & acceptance!
Read More
Reference
Al-Mudimigh S. A., Zairi, M. and Ahmed A. M. M. (2004) 'Extending the concept of supply chain: The effective management of value chains', International Journal of Production Economics, 87, pp. 309–320.
Barney, J. B. (2002) Gaining and Sustaining Competitive Advantage, 2nd edn., Reading, Massa: Addison-Wesley.
Bratić, D. (2011) 'Achieving a Competitive Advantage by SCM', IBIMA Business Review, Article ID 957583, pp.13.
Rumelt, R. P., Harry and Elsa (2003) What in the World is Competitive Advantage?, Policy Working Paper 2003-105, August 5, Available at: http://www.anderson.ucla.edu/faculty/dick.rumelt/Docs/Papers/WhatisCA_03.pdf
Sotiris Zigiaris (2000) 'Supply Chain Management', INNOREGIO project, Available at: http://www.urenio.org/tools/en/supply_chain_management.pdf
Sturim, R. (1999) Achieving Competitive Advantage through Supply Chain Integration, Sunnyvale, CA: Vitria Technology, Inc.
University of SanFrancisco (2013) Wal-Mart's Keys to successful Supply Chain Management, Available at: http://www.usanfranonline.com/wal-mart-successful-supply-chain-management/
Wisner, J. D. (2012) Principles of Supply Chain Management: A Balanced Approach, 3rd edn., USA: Cengage Learning.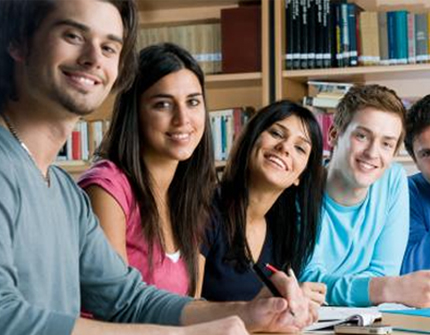 Full Fledged Academic Writing & Editing services
Original and high-standard Content
Plagiarism free document
Fully referenced with high quality peer reviewed journals & textbooks
On-time delivery
Unlimited Revisions
On call /in-person brainstorming session
Read More
More From TutorsIndia
Coursework Index
Dissertation Index
Dissertation Proposal
Research Methodologies
Literature Review
Manuscript Development
REQUEST REMOVAL
Order Now
Invest in your career by availing Part or chapter-wise master's dissertation writing service from our UK / the US Qualified researchers