Comprehensive Dissertation Writing For Finance Management: Expectation From UK Universities
Financial management is concerned with the efficient and effective management of financial resources of a business enterprise and primarily involves planning, controlling and administering of funds to enable the business to achieve its goals and objectives. In the modern-day competitive business world, in-depth financial management understanding offers a wide scope and is the most critical element essential for the survival and the continuous growth of the business.
Dissertation work is an independent research project mandatory for the successful completion of the dissertation in the stream of financial management programme, which offers the students an opportunity to carry out an in-depth study of the particular topic in their area of interest.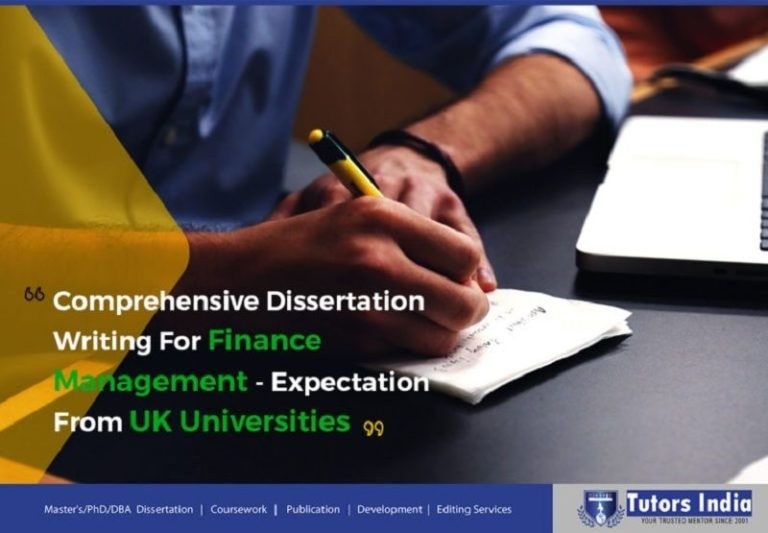 Financial Dissertation writing services UK offers great assistance to the students to develop their ideas into a professionally written dissertation report, which can significantly showcase their critical knowledge in their chosen subject area and achieve high credit points in the university evaluation. Some of the financial management dissertation topics;
Money Measurement Concepts
Mortgage and Loans
Diluted earnings per Share
Analysis of Dividend Policy
Accrual basis of accounting
Accounting methods
Convention of conservatism
Fund accounting
Financial analysis or financial performance evaluation
Accounting tools for performance evaluation
Micro-finance
Profitability analysis of selected banks
Corporate governance
Green Accounting
UK universities expect the finance management dissertations to be
Specific and narrowly focused on the chosen research area of the finance management discipline and Follow a clear structured approach.
To justify and validate facts, financial theories and researcher's opinion to form a precise argument.
The dissertation work needs to demonstrate the student's knowledge and understanding of the chosen topic in their respective discipline beyond undergraduate level and put into practice the financial theories and concepts learned in the financial management programme.
UK Universities require the dissertation writing to follow an appropriate academic style in terms of clarity of expression, grammar, usage of citation and referencing to ensure the precise objectives of the dissertation are met. Dissertation needs to follow stringent Rubric Scale.
Financial management dissertation writing can be significantly stressful for the students as it involves multiple stages, which requires them to completely abide by the universities mandatory guidelines in the form of research proposals, preliminary literature review, detailed research methodology, abstracts and submission deadlines.
It is advisable for the master's students pursuing financial management programme to take the assistance of Top-quality dissertation writing services in developing their ideas into an academically rigorous piece of work within the prescribed deadline that can completely match the expectations of their respective UK University.
But a word of caution is, cheap dissertation writing services do not normally possess an expert team of financial and management professionals with adequate knowledge of the mandatory requirements and the expectations of the various UK universities and tend to give an incomplete report. Hence a comprehensive research on the experience of the writing service in handling financial management dissertation is paramount before selecting the best possible company for taking dissertation writing assistance.
Links, References, Related Posts
– Top Tips For Writing PhD Research Proposal In Finance
– Ten Mind Numbing Facts about Assignment/Dissertation writing
– Why Stressing Yourself Too Much Can Hinder Your Progress In Writing Dissertation?
– How To Write Your Dissertation Introduction