Are Your Dissertation Chapters Muddled? Experts At Tutors India Can Help You Declutter
A dissertation is a major step in your academic progress. It gives you entry into a circle that elevates your knowledge and experience in the field concerned. However, writing a dissertation can seem overwhelming. It would be inhibiting to write hefty pages and submitting it to diligent scholars who evaluate the same. The research perception of yours might be a noble one but the execution of research and the process of putting to paper the research procedure and its inferences, proving its reliability and validity, would be difficult.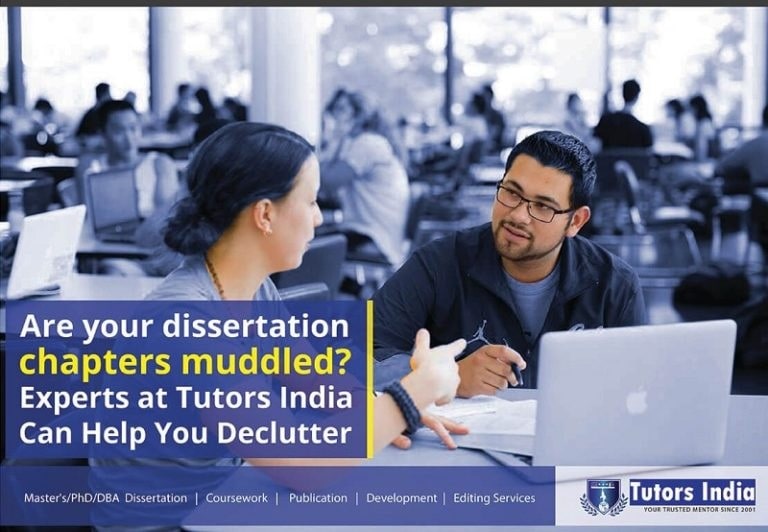 It is to be understood that a huge obstacle is psychological. You should be aware of the fact that the research that you are going to talk about is already done and that documenting the same is not a tedious task, the turnaround time of the entire process of writing a thesis being nominal, however, forbidding the research topic or field is.
Firstly, the dissertation topic you choose should be one you are inclined to. A good dissertation topic is obviously demarcated. A topic that is overly broad, unduly ambitious, or equivocal is a formula for a let-down. You should be able to write a research proposal that makes your intentions clear, putting forth a vivid concept or question that you suggest to ponder on.
Secondly, it is mandatory to establish your dissertation, organize its chapters, around substantive, conceptual, and methodological questions. These questions are to be answered based on the researches done by fellow scholars on similar lines of yours, and their inferences. While presenting ideas, a conceptual unity of dissertation chapters is necessary, which is facilitated by our academic experts at Tutors India. We understand the importance of your research, placing the same in the growing arena of whichever field of study your research belongs to, giving primal priority to the coherence of the ideas you have on the research topic concerned. It would be feasible for you to approach us only with the intended or performed research which we record in words, using our experienced hands at writing a thesis.
While organizing the dissertation chapters, the scrutiny of information is done using a peer reviewing process, with an efficient group of experts working with us who have ample acquaintance and involvement in the fields of research, looking at the existing studies, the scope of the particular study, its limitations, relevance, and validity. Years of producing theses in various fields have equipped our experts with ease to handle research topics in an effective way.
We at Tutors India make sure the thesis reflects your academic fervor, doing a complete quality check including plagiarism check and correction of the documentation of the research, not splitting focus, making clear progress in detailing the research.
Links, References, Related Posts
– How To Write a Dissertation in a Day
– Assistance At Every Stage Of Management UK Dissertation?
– Planning a perfect dissertation is not difficult if only you follow these steps!
– Dissertation Period: 10 Things that only Students can Understand
– Emerging Trends in Artificial Intelligence and Machine Learning Dissertation