Complete Your Thesis: Top 10 Tips And Tricks
Thesis writing sure is an exceptional experience and there is no one way of structuring it. As a research scholar, it is left to you to decide what kind of a structure suits your research area and topic, upon discussion with your supervisor and on reading up on other theses that have already been written on your area of interest.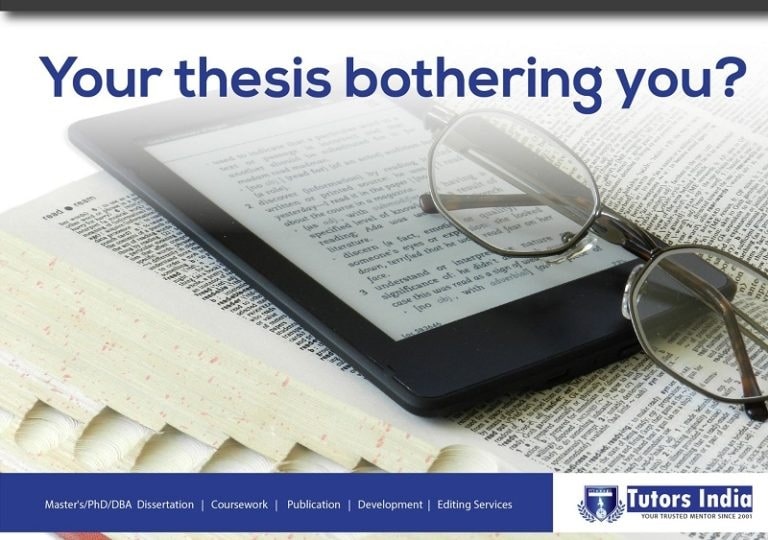 Most dissertations are unique even though they might be very close in introspection. But there are two basic structures dissertations follow. The conventional structure is one in the form of a book that consists of chapters and the more recent one is where the thesis is structured like a series of journal articles that can be published later if one wishes but this kind needs the concurrence of the Supervisor.
A more conventional way of structuring a postgraduate thesis is to write it in the form of a book consisting of chapters. Although the number of chapters used is relative to the specific research project and to the course duration, a thesis organized into chapters would typically look like this:
The conventional structure of any research will look like a book consisting of a number of chapters, the number of chapters depending on the specific research topic and the course duration. But a broad outlook of the same would have the following:
1. Title Page
The Cover Page which consists of relevant information about the researcher and the research thesis.
2. Abstract
A brief summary of the thesis including the background of the chosen topic, the research methodologies used and the inferences to be made.
3. Contents
A list of the chapters and figures contained in your thesis.
4. Background
A background study of the topic and its rationale.
A summary of the secondary sources and literature that support your research thesis.
A description of methodology used in your research. In a thesis of literature, this section will contain theories applied in the research.
Techniques used to analyze your primary data are explained.
8. Discussion
Main conclusions based on the data analysis.
A list of the references cited in your thesis.
10. Appendix
Additional resources like questionnaires, interview responses, survey results will be included here.
Tips On Writing A Thesis
Start early!
Academic writing is not so much about your talent in writing but more to with practice. Therefore, the first steps of writing your thesis will be effortful and starting early will help you to hear up in good time.
If you don't write things as you do them while it is fresh in your mind, you may end up having to spend more time in structuring your thesis and presenting it.
The first draft of your thesis is unlikely to be perfect; chances are you will need to make at least one or two drafts before submission.
Writing an early first draft is a psychological trick that will help you stay motivated in writing all the subsequent drafts.
Thinking and writing are closely connected. As you write, new concepts and ideas will appear in your mind and you will probably think of many ways of improving your thesis, incorporating at least some of the new ideas.
Improve Your Writing Skills
Improving your writing skills banks heavily on an early first draft of your thesis and sending it to your supervisor for your revision. After it undergoes correction by your supervisor a few times, you will realize by yourself what your errors are and recognize the errors by yourself.
Have a few confidants to whom you could send the draft to identify recurring errors.
Do proper research on usage of language that suits your research topic, for which you can take the aid of the internet.
You can read up on many academic articles and other such writing resources on the internet that will help you adopt good writing skills.
Collect Adequate Data
Data collection is a major step in any research. It is necessary to collect ample and more data to substantiate your argument. The more data, the more ideas. As and when you collect data and do your research on them, your research takes new directions and shapes up better.
Choose The Right Methodology
It is mandatory to have a particular methodology or theory to support your research topic. On careful scrutinizing of your topic, its scope, relevance, inferences expected etc., one has to choose the appropriate methodology.
It makes a lot of difference how easy or difficult your research will frame out to be once you've decided on the methodology. So, take your time in selecting the right manner in approaching your thesis concern.
Keep Track Of Your Bibliography
While pursuing research, you need to make sure your bibliography is well-organized since there are a lot of chances for you to get lost in large piles of data that you would have collected for your thesis. Create a database of the data that you collect, where you put down the details of the data and also insert a small summary of the same for your future use. This will definitely come in handy throughout your research and by the end of it while you formulate your works cited section.
How To Not Plagiarize?
Plagiarism is a growing issue in many universities across the country. It is very crucial to investigate how plagiarism could be avoided before you begin with your thesis. It is possible for scholars to commit plagiarism unconsciously, this usually happens when you copy and paste certain sections of journal's or articles without rephrasing them or citing them. Do make sure you cite the source of the data that isn't your own or rephrase them in such a way that they are not plagiarized content.
Use The Right Format
Various institutions demand various formats for your research thesis. Read your university guidelines before beginning to document your thesis. It usually is a 12 font size, Times New Roman font type with a 1.5 spacing that most universities follow in our country since it is the MLA format of writing any academic paper. However, it would be better to confirm with your institution and supervisor before finalizing on it.
Well-versed in the above-mentioned aspects of thesis writing are the able hands of experts here at Tutors India. While research is about the scholar's intellect and effort, we at Tutors India extend our support to fellow scholars out there who are inhibited of the research process or who are stuck at some part of their thesis. Our team of experts is well-versed in thesis construction, development and formulation. We have years of experience in the field of research which enables us to easily identify and rectify errors, create substantial data, arrange the same or compile a proper thesis based on your findings. Get in touch with us to fulfill your commitment as a research scholar.
Links, References, Related Posts
– Ten Mind Numbing Facts about Assignment/Dissertation writing
– Excel in Dissertation Writing
– Writing the Problem Statement: The Key to Your Dissertation
– Writing the thesis statement: A vital part of your doctoral dissertation
– Why stressing yourself too much can hinder your progress in writing dissertation?